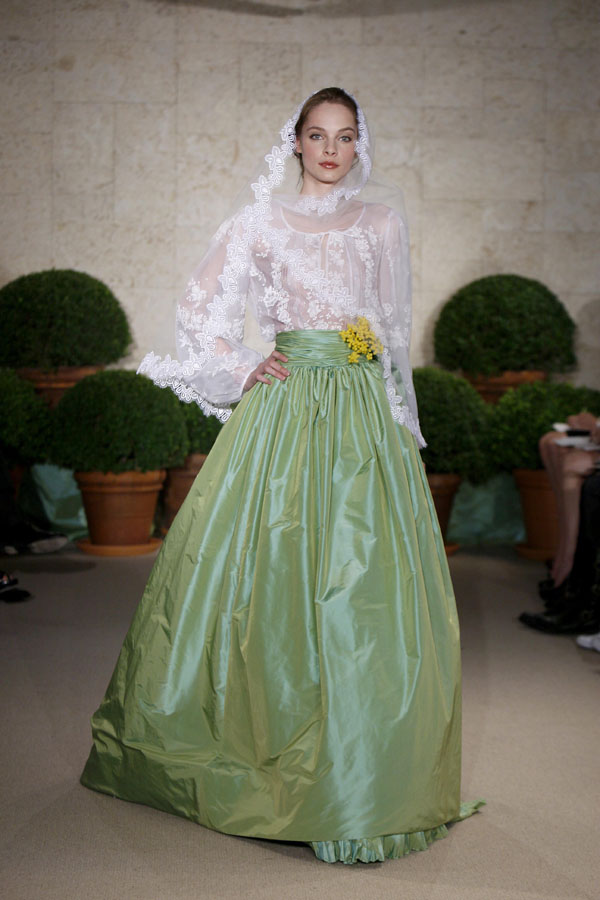 Oscar de la Renta Spring 2011 Bridal
I've worked in the Bridal Industry for three whole weeks now, and I can't believe how much I learn in just one day. I want to keep a running list of all the tidbits my mind absorbs, like the pin pricks I get in my fingers (my hands get so dry and cracked everyday after work. I lather them up every night and wear manicure gloves to keep them looking youthful). Here is part of that running list:
- Every part of a wedding dress is interfaced: bodice, lining, skirt, EVERYTHING. It is so bizarre. But with heavy satin and taffeta, big heavy skirts, and boning interfacing everything is a must.
- The wedding industry is changed drastically from what it used to be twenty years ago. Middle class brides no longer spend over $5,000 on a dress. The max is about $3000 average. But even if that price is lower, it doesn't mean that she doesn't want high drama. Dramatic, fashion forward dresses sell now more than ever before (which is great fun for aspiring designers like me :D).
- The company I work for (which I will never say on here-- if you want to know, email me) is the only lower-end bridal company that actually does model fittings and revisions on designs once the dresses are made in the factory. Every other company (David's Bridal, for example) chooses dresses based on pictures (not from a live fitting) through a committee. No revisions are ever made on fit or construction, which is insane to me. With all the technique and work that goes into a wedding dress, it better have an amazing fit, for which my company is so well known and respected by brides. This also means that other companies have no seamstresses or pattern makers (like me) that work in the US. All is done in China, which means so much control is lost over quality.
- The hundreds of wedding dresses that are made every season by bridal fashion companies are designed only by about 4 or 5 designers total. In my company, we only have 4 designers that design about 200 dresses EVERY SEASON and then about 400 are put into production. How do these people create 200 dresses every season????
- the "Devil Wears Prada" boss and employee relationship in fashion is REAL, even in lower-end fashion.
The greatest thing I've learned so far these three weeks:
i love working in fashion. It is my true calling. I'm glad I'm able to see that now when my career is just beginning, because to work my whole life in an area I hate would suck. I'm glad I changed my major so many years ago to sewing at BYU from English. I've often regretted that decision when I was working at home for a year making pennies, but now I see the true value in my education. It brought me this job, and this job is my foot in the door.